All new Hm Quickshifter Blipper with Warm Up Feature and Fully Adjustable per Gear and Band. Pit Limiter, Launch Control and Engine Braking Control to follow soon.
With HM Quickshifter's legendary quality, reliability and performance we present to you the all new Stand Alone Blipper Shifter.
Hm Quickshifter Auto Blipper Available in two versions: LITE and PRO
The LITE version already outperforms any other system on the market. It is a simple plug and play system that is fully adjustable.
The PRO version is taking shifting / back shifting to the ultimate level. It is the only system on the market that communicates with your ECU to get many vital parameters allowing the shifter blipper to give perfect shifts whatever the load, RPM, Gear or throttle position. It is also completely plug and play in a small, waterproof and compact unit.
The PRO version also adds intelligent auto warmup feature and fully adjustable per gear and band. Pit Lane Limiter. Launch control and Anti wheelie and Engine Brake Control are soon to follow via a software update.
Customer Testimonials
Hi, i just had one of your HM plus SS quickshifters fitted to my 08 R1 this afternoon and i must tell you its absolutely fantastic, great service great product. Very happy. Thanks again.

Bill T
This quick shifter (super lite) took no more than 30 mins to install. Nothing was complex about the installation, all plug and play. The quality of the wiring as an electrician was very neat and of the highest quality.

Joe V
Awesome customer service, very efficient delivery process (received the following morning), amazing product! Bought for my CBR1000RR, and it's transformed the bike. I can't wait to get out to the track again!

Conan
Hm Quick Shifter - Full Throttle, Clutchless Shifting
Hm Quickshifter is the best & most trusted motorcycle quick shifter kits on the market today. Used by many Motogp teams, track day riders and road riders to allow full throttle clutch less up shifting on virtually any motorcycle. They are a stand alone system meaning that they do not require any secondary device to make it work. So if you own a Aprilia, Bmw, Ducati, Honda, Kawasaki, Ktm, Suzuki, Triumph or Yamaha motorcycle we will most likely have a quick shifter kit to suit your bike. Start shopping now!
Cant see your bike listed?
Send us an email using the contact us tab at the top of this page and we will verify what product will work on your motorcycle.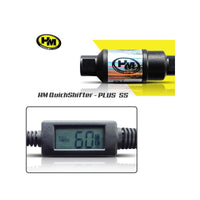 Hm Quickshifter Plus
The Hm Quickshifter Plus gives you smooth and positive gear changes. A must for the racer giving you a couple of seconds a lap or for the road rider just great fun on your favourite piece of road.
Learn more about the Hm Quickshifter Plus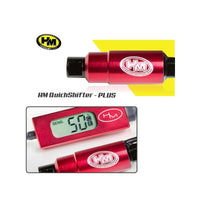 Hm Quickshifter Super Lite
The Hm Quickshifter Super Lite is the ideal kit for those looking at adding a quickshifter to their daily ride. Super Fast, Super Affordable, Super Lite. Not for Race Use.
Learn More About The Hm Quickshifter Super Lite